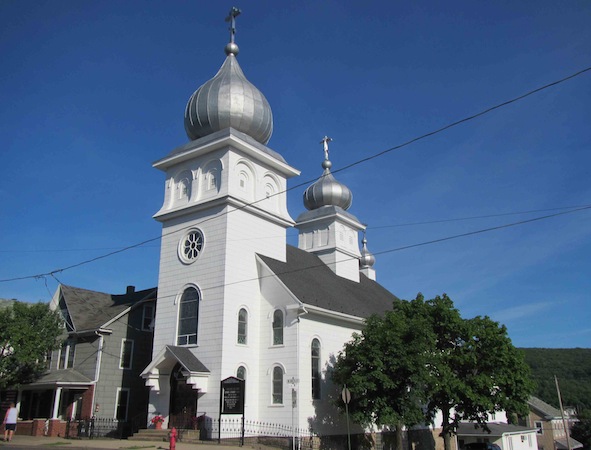 Welcome to St. Michael's Orthodox Church!
Founded: 1907
Diocese: Diocese of Philadelphia and Eastern Pennsylvania
Deanery: Frackville Deanery
Parish Highlights:
We have a choir, and services are in English with some Slavonic on Feast Days.
We promote Orthodoxy and offer educational programs for youth and adults at least six times a year. Photos from past activities can be found at http://doepa.org
We have coffee hour following Divine Liturgy most Sundays. Please join us in fellowship!
We support charitable and community efforts, including the local food bank.
St. Michael's has 50 parishioners, and we are focusing on regrowth.
Easter Flower Pledges
We will again be having our annual Pascha flower pledge program. Pledging flowers is a nice way to remember those dear to you at this special time. If you would like to participate, please submit the 2023 Easter Flower Pledge form along with your donation. You can also get copies of the form from any member of the Parish Council. Pledge forms are due by April 2nd.
Lenten Appeal
As we continue our Lenten journey, we are reminded that this journey should not be limited to fasting. Each parishioner should consider putting aside each day the money saved from fasting or from giving up something of enjoyment, and use either the small boxes in the vestibule or the gold, collection plate on the center Icon table to donate savings in support of our Annual Lenten Appeal.
This year's donations will again be provided to Father John Nightingale. Father John served the parish as a visiting priest for two Pascha seasons and filled in the many times we needed help when we did not have a rector. Several years ago he had a fall that left him paralyzed, requiring additional care for him to remain in his home with Matushka Kyra. Donations will close on Palm Sunday.
Lenten Mission service at St. Michael's
Our parish will host a Mission service on Sunday, March 19th, at 4:00 PM. See the flyer for more information. Registration for the camp is now open.
These beautiful services provide an opportunity for different parishes to pray together and enjoy fellowship following the service. A full list of the services taking place in our area is available here.
Rectory Preparation
If you are interested in doing some spring cleaning at the rectory, please see Sandy Tosca.
Volunteers needed for St. Tikhon's Summer Camp
Please visit the Saint Tikhon's Summer Camp contact page or see the flyers posted in the church hall for more information. Registration for the camp is now open.
Saint Tikhon's Summer Camp is a one-week, sleep-away, camp program for Orthodox Christian children between the ages of 7 and 17. The camp begins on July 2nd and runs thru July 8th. Applications are due by early May for both attendees and those interested in working at the camp.
House Blessings
If you would like to have your home blessed, please contact Father Vjekoslav at the phone number listed at the top of the first page of the bulletin. If you are unable to reach him, please notify Sandy Tosca.
Annual Parish Meeting
Our 2023 annual parish meeting is scheduled for January 22nd, following Divine Liturgy. We distributed handouts to parishioners on Sunday, January 15th, and we ask that attendees to bring them to the meeting on January 22nd. If you plan to attend the meeting but did not recieve a handout, please let Sandy Tosca know.
Church envelopes available
Please pick up your church envelopes in the vestibule. Names are on the boxes.
Christmas caroling
On December 10th, we sang Christmas Carols in front of the Mt. Carmel Public Library. Those who passed by appreciated the Christmas Cheer.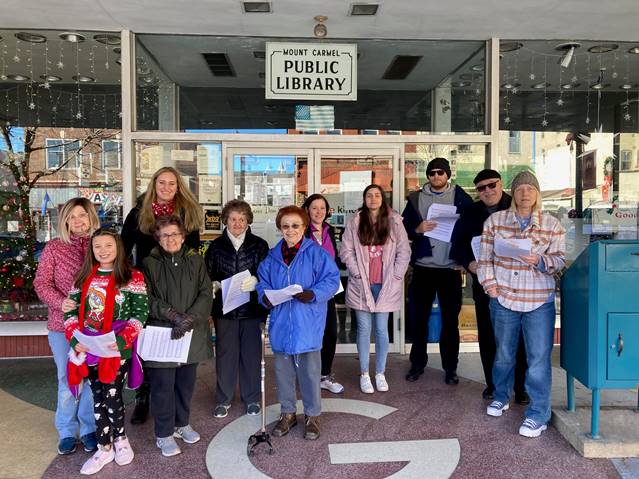 Christmas card making
The week of December 4th, we were busy writing out Christmas cards, and the children of the parish made cards for our home-bound parishioners.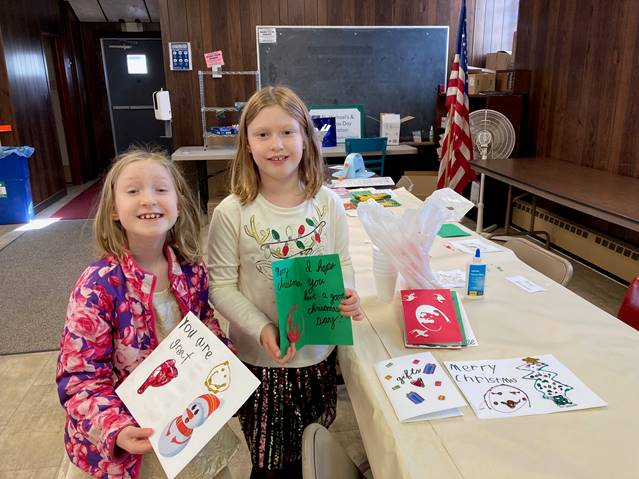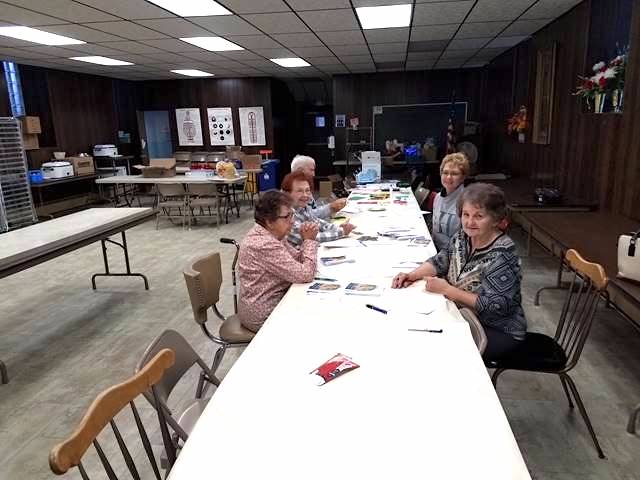 Religious cards for sale
Nativity Cards are available for sale in the vestibule at $2 per card.
Christmas flower pledges
Once again, we are having the Poinsettia Flower Pledge for the Nativity. If you would like to offer a $25 donation in memory of a loved one, or for the health and well-being of a loved one, please complete this form, and submit it with your donation, by December 11, 2022. Forms are also available in the church vestibule and may be given to Sandy Tosca or mailed to the church.
Coat Drive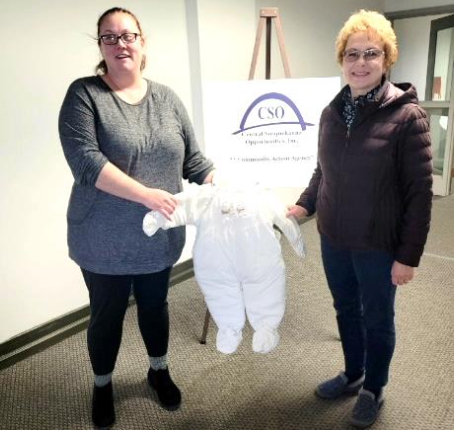 This fall, our parish once again supported the Central Susquehanna Opportunities (CSO) Coat Drive.
We collected $350 in cash donations, along with ten coats, and delivered everything to CSO on Monday, November 21st. The cash contributions will allow for the purchase of about nineteen addtional coats!
The CSO team was very appreciative of the donation, especially before Black Friday, since they could then buy the coats during the holiday sales.
Nativity Activities
This year, we're planning a number of activities to share the joy of the holiday as a parish and with our community. If you are interested in participating, please reveiw this list and let Sandy Tosca know your availability by November 27th.
Sunday School
We plan to have Sunday School each Sunday for 20-30 minutes, following Divine Liturgy. We'll provide an opportunity for the children to get something to eat at coffee hour and then retreat to the church. On November 20th, we're going to start with a short discussion of the "O Heavenly King" prayer.
St. Michael's Day – Veteran's Day celebration
November 8th is St. Michael's Day. During the celebration of our patron saint, we will be honoring veterans, both living and deceased. We updated our Veterans banner and will be providing brunch following Divine Liturgy. We're extending invitations to other parishes in our Diocese and encourage you to reach out to friends and family and ask them to join us for this event. Also, please invite anyone who would enjoy fellowship and a warm meal. There are flyers in the vestibule.
If you are interested in donating toward the meal or making something, there is a a sign-up sheet in the vestibule. We will begin setting up the hall and preparing food on November 7th at 1 PM until about 6 PM.
Help needed
When we have some fair weather, we need help completing some outside painting including: the railing in front of the rectory office door, the back wall of the rectory, and the white wooden fence along the property.
If you have time and are interested, please see Joe Tosca. We have all the supplies needed.
Annual coat drive
Our parish is once again supportng the Central Susquehanna Opportunities (CSO) Coat Drive. You can either donate a new coat or provide a donation in the gold dish on the center table. The coat drive will run thru November 13th, and they have a need for adult coats this year.
CSO is also looking for volunteers to help hand out coats and food in October, November, and December. Coats are distributed on Friday mornings, Tuesday mornings, and Thursday afternoons at their location in Shamokin. If you are available to help, please contact Stacie Snyder at 570-205- 7868.
Clergy Appreciation month
October is Clergy Appreciation month, and the parish council requests that you consider expressing your appreciation to Father Vjekoslav for everything he has done for St. Michael's in his time here. We've been glad to have him with us, and we wish him well in his next assignment!
Prayer Request
His Beatitude Metropolitan Tikhon is asking for the prayers of the clergy, monastics, and faithful of the Orthodox Church in America on behalf of His Beatitude Metropolitan Herman who is drawing to the close of his earthly life. Metropolitan Herman is currently in his home on the grounds of Saint Tikhon's Monastery.
Orthodox Christian Prison Ministry
Please help support the Orthodox Christian Prison Ministry, and give what you can. Place donations in the gold dish on the center table. The drive will continue until August 7th.
Administrator appointment
Archbishop Mark has appointed Father Vjekoslav to serve as Administrator of Assumption of the Blessed Virgin Church in St. Clair, in addition to serving our parish. The appointment is effective as of July 1, 2022.
Opportunities and Outreach
While these challenging times, due to the Coronavirus, are disrupting our lives and causing a lot of stress, please keep a couple of things in mind:
Call each other – stay connected to our parish family – do wellness checks
Reach out to our elderly population to see if you can get groceries or prescriptions for them. If you do, make sure to wash your hands, use gloves and disinfectant wipes and keep your distance (6') when dropping off any items.
Send cards to each other and share uplifting messages
Keep your faith
Pray with great intensity for the well-being of both family and friends
Let's follow our orthodox mission of helping each other!