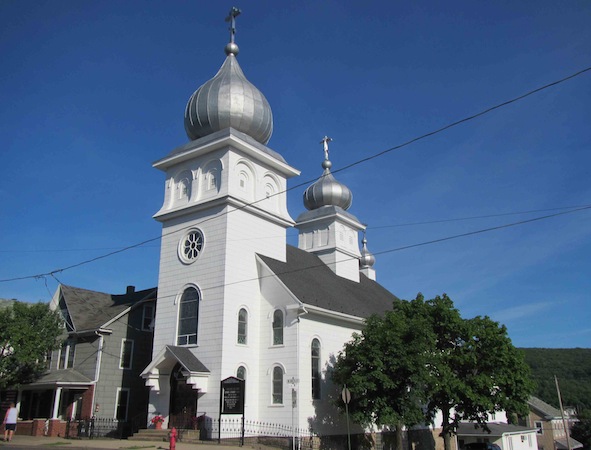 Welcome to St. Michael's Orthodox Church!
Founded: 1907
Diocese: Diocese of Philadelphia and Eastern Pennsylvania
Deanery: Frackville Deanery
Parish Highlights:
We have a choir, and services are in English with some Slavonic on Feast Days.
We promote Orthodoxy and offer educational programs for youth and adults at least six times a year. Photos from past activities can be found at http://doepa.org
We have coffee hour following Divine Liturgy most Sundays. Please join us in fellowship!
We support charitable and community efforts, including the local food bank.
St. Michael's has 50 parishioners, and we are focusing on regrowth.
COVID-19 update, March 18, 2020.
Due to concerns about the Coronavirus that causes COVID-19, Archbishop Mark has announced that all public services will be suspended until April 1st, and several parishes will work to provide live streaming services during that time period. For more information, please read Archbishop Mark's letter.
COVID-19 precautions, March 15, 2020.
In the interest of protecting our parishioners and guests during these trying times, the upcoming Lenten Mission Services scheduled in our parish and in St. Clair have been cancelled. Additionally, there will be no fellowship after Divine Liturgy on Sundays for the next several weeks.
Meet our 2020 Parish Council:
On March 8th, Father Mircea Airinei administered the Oath of Office to Council of St. Michael's Orthodox Church.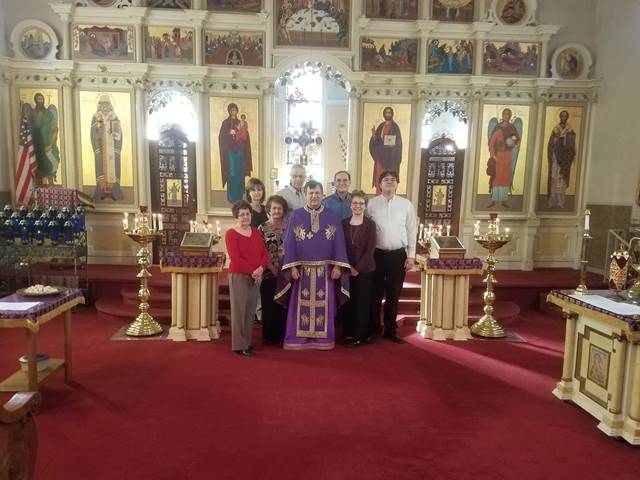 Frackville Deanery Lenten Mission Services -
These services have been cancelled.
The Frackville Deanery will hold two Lenten Mission Services during the 2020 Lenten period. One will be held in our parish on March 15th, and the other will be held at St. Mary's Church in St. Clair on March 18th. Details are available in this flyer and on the Service Schedule page.
Theophany
On January 6th, Father Ignatius Hunter celebrated Theophany, which means "appearance of God" and is one of the Great Feasts of the Orthodox Church. Theophany reveals the Most Holy Trinity to the world through the baptism of Jesus Christ.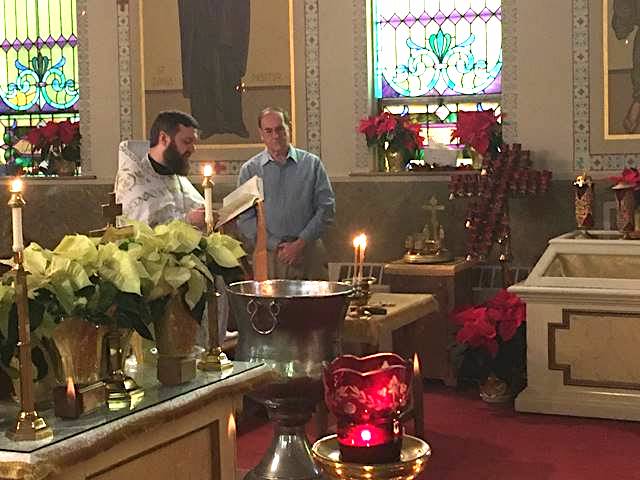 Calendars and envelopes available
2020 Calendars and church envelopes are now available in the Vestibule!
Coat drive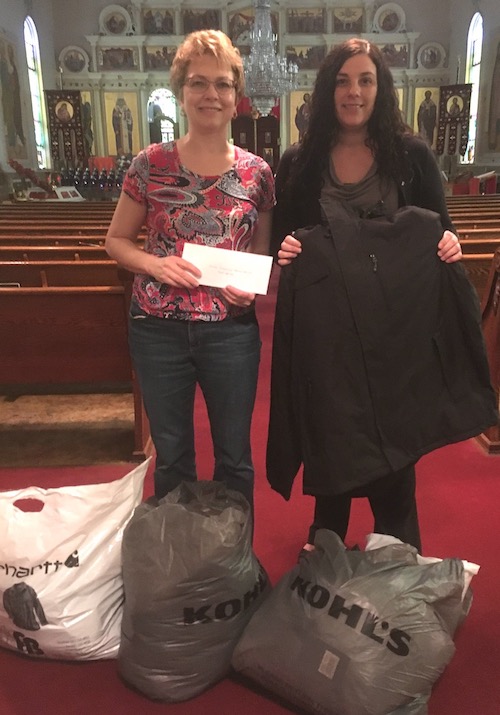 This year, our parish collected $425 and 14 coats to donate to the Central Susquehanna Opportunities organization.
Our donation will help to provide coats to needy children in the Susquehanna Valley.
Clergy Appreciation Month
October is clergy appreciation month, and the second Sunday, October 13th, is nationally recognized as Pastor Appreciation Day.
Support for the United Way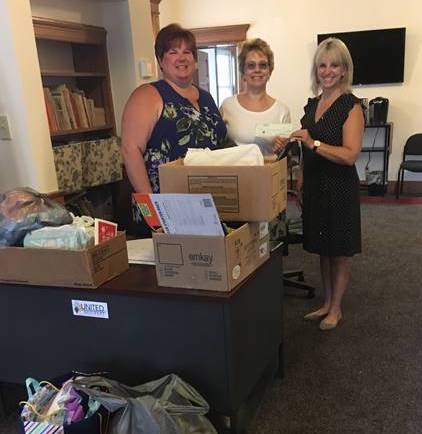 Our parish is supporting the after-school program for at-risk children in the Mt. Carmel Area School District. The program is coordinated by the Greater Susquehanna Valley United Way, and our parishioners collected school supplies and cash for the to contribute to the effort.
The 5th and 6th grade students in this program are making Christmas cards for the parish to distribute to local nursing homes.
Shown in the photo are Stephanie Reitmeyer (GSVUW), Sandy Tosca (St. Michael's), and Joanne Troutman (GSVUW).
Divine Liturgy for Transfiguration
On August 6, 2019, Father Ignatius Hunter celebrated Divine Liturgy for Transfiguration.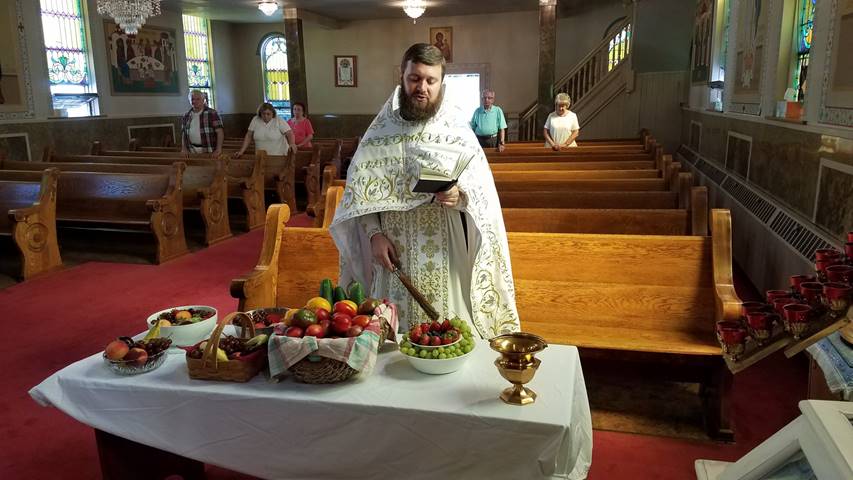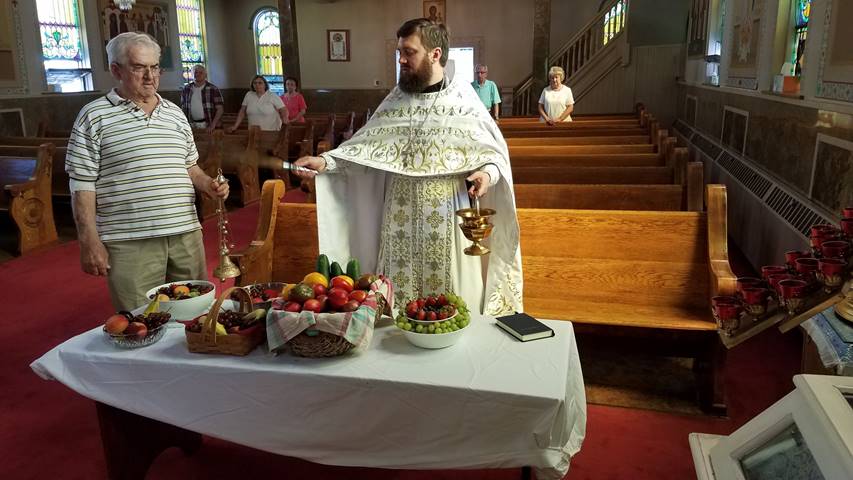 Diocese Instagram page
The Diocese is now on Instagram! You can follow them @oca_doepa or OCA Diocese of Eastern PA.
Annual Basket Raffle
We are requesting assistance covering the cost of our annual basket raffle prizes. Any cash donations would be greatly appreciated!
The items needed to be covered include:
$150 Walmart gift card
$125 gift certificate for Irish Isle Provision Co.
$100 gift certificate for Kowalonek's Kielbasy Shop
$100 Boyers gift card
$150 cash prize
$100 Mattucci gift card
Palm Sunday
On March 21st, Father Ignatius Hunter celebrated Palm Sunday.