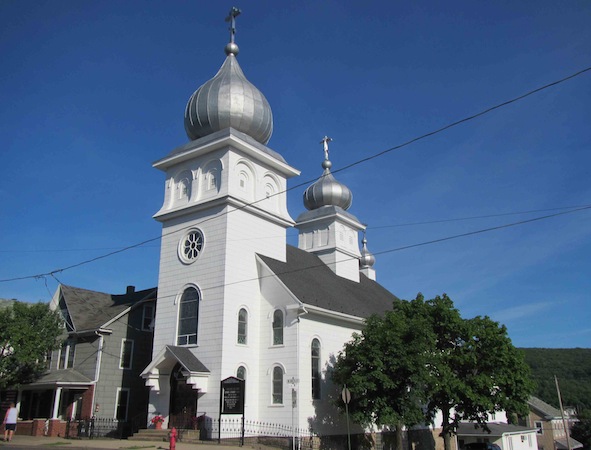 Welcome to St. Michael's Orthodox Church!
Founded: 1907
Diocese: Diocese of Philadelphia and Eastern Pennsylvania
Deanery: Frackville Deanery
Parish Highlights:
We have a choir, and services are in English with some Slavonic on Feast Days.
We promote Orthodoxy and offer educational programs for youth and adults at least six times a year. Photos from past activities can be found at http://doepa.org
We have coffee hour following Divine Liturgy most Sundays. Please join us in fellowship!
We support charitable and community efforts, including the local food bank.
St. Michael's has 50 parishioners, and we are focusing on regrowth.
Blessing of Graves
On Saturday, July 25th, Father Vjekoslav will bless graves at the following times:
9:00 AM - SS. Peter and Paul Cemetery in Centralia
10:00 AM - St. Michael's Cemetery on Merriam Mountain
Please provide the names for graves you would like blessed to Father Vjekoslav or Sandy Tosca by July 19th.
Blessing of Pussy Willows
Following Divine Liturgy on June 28, 2020, Father Vjekoslav blessed pussy willows for parishioners. No services were held at St. Michael's during Great Lent or Pascha, so Father blessed the pussy willows that had been planned for Palm Sunday and gave them to parishoners.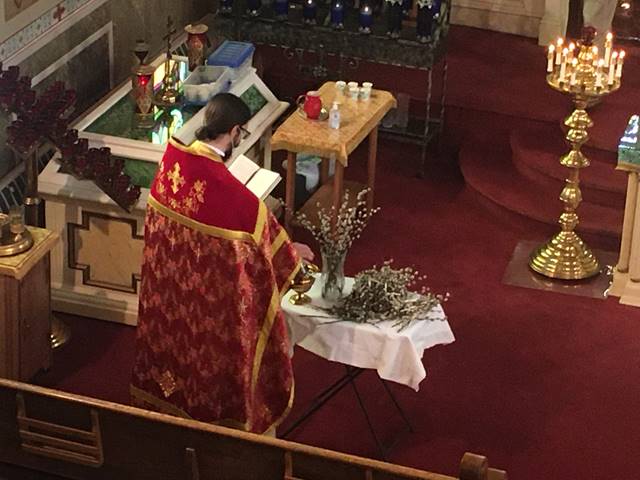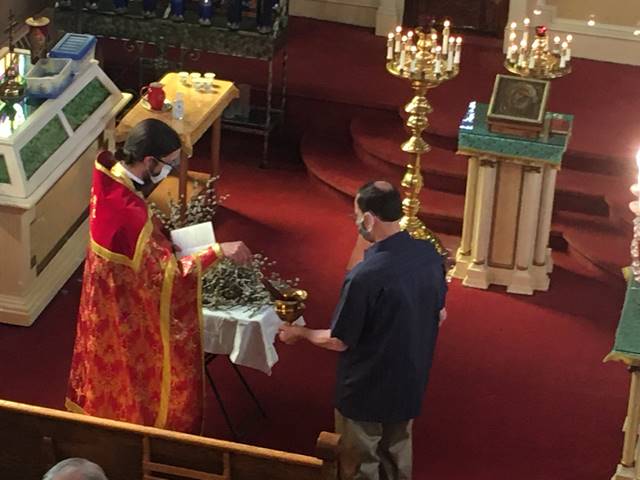 Attention graduates!
If you, a child, grandchild, or other relative is graduating from high school, college, or another institution of higher learning this year, please provide a graduation photo to a member of our parish council along with the graduate's name, institution name, degree earned, and future plans so we may highlight the achievement in the bulletin.
Welcome Father Vjekoslav and family!
We are pleased to announce that we have received official notification from His Eminence, Archbishop Mark, that effective May 30th, Fr. Vjekoslav Jovičić is assigned as Acting Rector to St. Michael's. Welcome to our parish!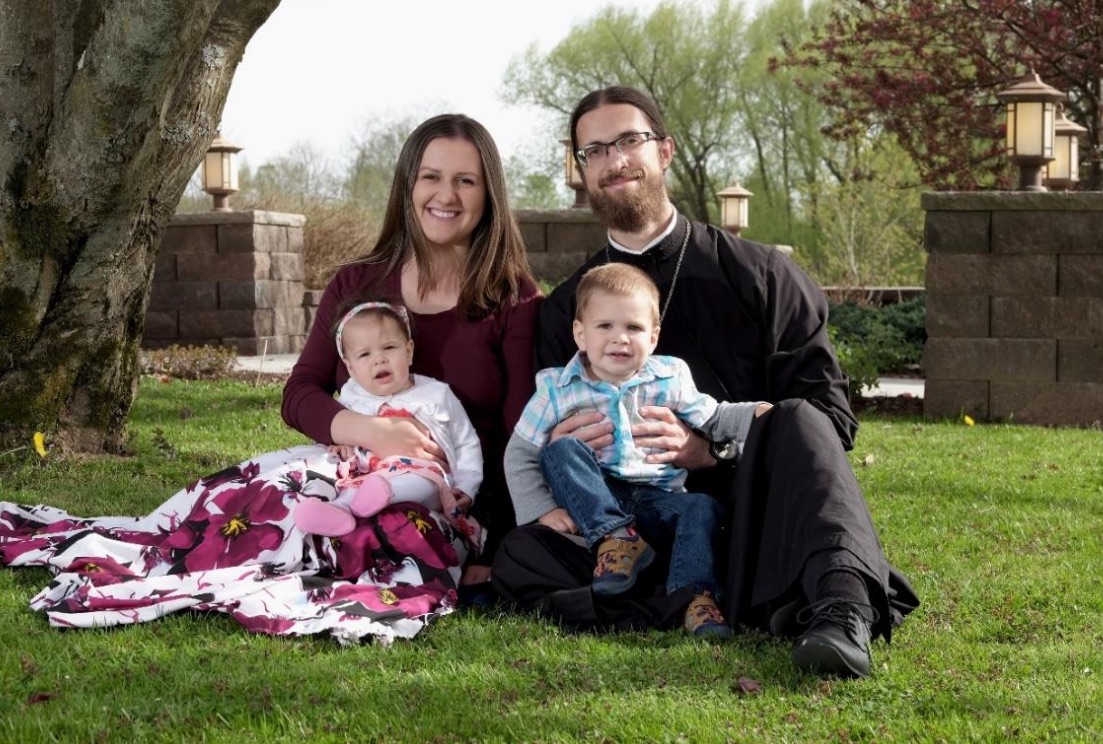 Update regarding services at St. Michael's, May 24, 2020
Services at St. Michael's are still suspended, but Archbishop Mark has approved the parish re-opening plan, which outlines the phased-in re-opening process and necessary protocols that will be followed to help ensure the safety of those in attendence as we start having services again.
Update regarding services at St. Michael's, May 17, 2020
Services at St. Michael's are still suspended until futher notice, and Archbishop Mark has shared two letters addressing all clergy, parish councils, and parishioners regarding the process for reopening churches and returning to parish life.
The first letter is a clarification of his May 6th letter, and the second letter establishes protocols for visiting churches other than one's home parish. Archbishop Mark has also provided information about Covid-19 symptoms, details of who is at higher risk for severe illness from the coronavirus, and best handwashing practices.
Update regarding services at St. Michael's, May 6, 2020
Services at St. Michael's are still suspended until futher notice, and Archbishop Mark has written a letter to all clergy, parish councils, and parishioners to begin a discussion about the process for reopening churches and returning to parish life.
Update regarding services at St. Michael's, May 3, 2020
Services at St. Michael's are still suspended until futher notice, and Archbishop Mark is seeking input from clergy, parish councils, and parishioners while assessing the path forward in returning to parish life.
As part of the evaluation process, he asks that Diocese members complete a survey to help better understand member thoughts and concerns about reopening churches. Please read Archbishop Mark's letter before taking the survey.
Parishioners who need a survey password or would prefer to fill out a paper copy of the survey should contact the rectory at (570) 339-1200.
Pascha 2020 at St. Michael's
While there were no services at St. Michaels due to concerns about Covid-19, the faithful still prepared the church and gravesite. More pictures are available here.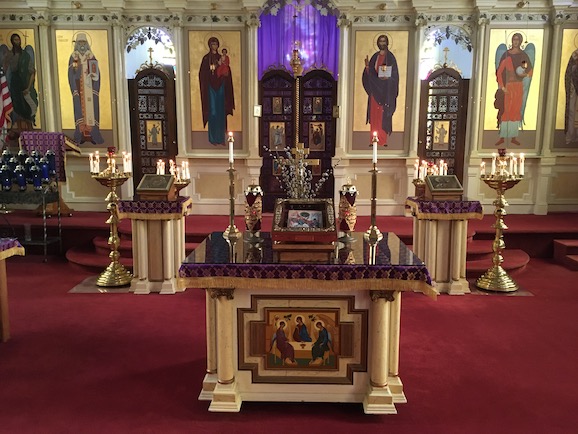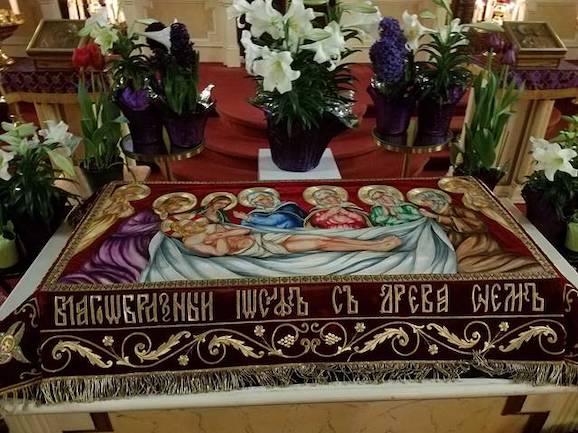 Update regarding services at St. Michael's, April 5, 2020
Archbishop Mark has given notice that all services in the Diocease are cancelled until at least April 30th. Regrettably, this means that we will not be holding any services during Holy Week nor on Holy Pascha.
While atteding services in person is not currently possible, several churches in the Diocese are holding clergy-only services with the minimum number of people necessary and sharing live streams of those services so the public can "attend" remotely. For more information about the services available, please see our Services page.
Opportunities and Outreach
While these challenging times, due to the Coronavirus, are disrupting our lives and causing a lot of stress, please keep a couple of things in mind:
Call each other – stay connected to our parish family – do wellness checks
Reach out to our elderly population to see if you can get groceries or prescriptions for them. If you do, make sure to wash your hands, use gloves and disinfectant wipes and keep your distance (6') when dropping off any items.
Send cards to each other and share uplifting messages
Keep your faith
Pray with great intensity for the well-being of both family and friends
Let's follow our orthodox mission of helping each other!
Note regarding the Coronavirus outbreak
All parish services and events are cancelled until at least April 1st. For service streaming options, please see the Services page.
Candles and Easter Flowers
We are checking mail at the rectory, and donations will be deposited weekly. If you want $5 and/or $3 candles lit in the church, just send in the candle donation and include your intentions (i.e. 'health of' or 'in memory of'). We will light the candle(s) and include prayers for those on your intention list. Donations can be either mailed to the rectory or dropped off in the rectory mail slot. Please see the Contact page if you need the church address.
We will be having our annual Pascha flower pledge program again this year. Pledging flowers is a nice way to remember those dear to you at this special time. Easter flower pledge forms for 2020 are available from any member of the Parish Council or here and are due by April 5th.
While we continue to accept Easter flower pledges, we are temporarily holding the checks and money. If we are unable to proceed with Easter flowers, we will return those donations.
Covid-19 update, March 18, 2020.
Due to concerns about the Coronavirus that causes Covid-19, Archbishop Mark has announced that all public services will be suspended until April 1st, and several parishes will work to provide live streaming services during that time period. For more information, please read Archbishop Mark's letter.
Covid-19 precautions, March 15, 2020.
In the interest of protecting our parishioners and guests during these trying times, the upcoming Lenten Mission Services scheduled in our parish and in St. Clair have been cancelled. Additionally, there will be no fellowship after Divine Liturgy on Sundays for the next several weeks.
Meet our 2020 Parish Council:
On March 8th, Father Mircea Airinei administered the Oath of Office to Council of St. Michael's Orthodox Church.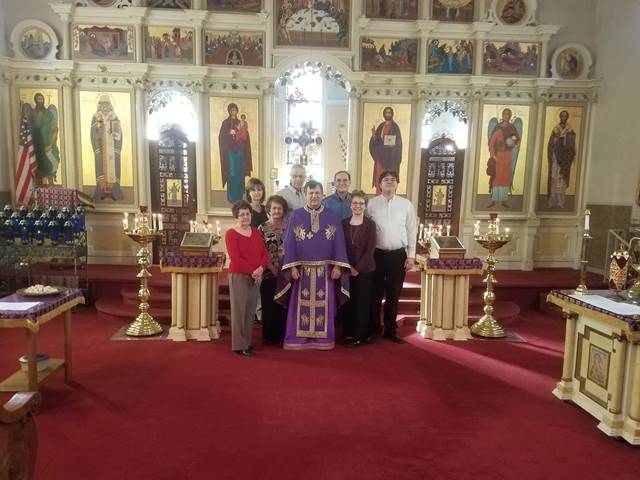 Frackville Deanery Lenten Mission Services -
These services have been cancelled.
The Frackville Deanery will hold two Lenten Mission Services during the 2020 Lenten period. One will be held in our parish on March 15th, and the other will be held at St. Mary's Church in St. Clair on March 18th. Details are available in this flyer and on the Service Schedule page.
Theophany
On January 6th, Father Ignatius Hunter celebrated Theophany, which means "appearance of God" and is one of the Great Feasts of the Orthodox Church. Theophany reveals the Most Holy Trinity to the world through the baptism of Jesus Christ.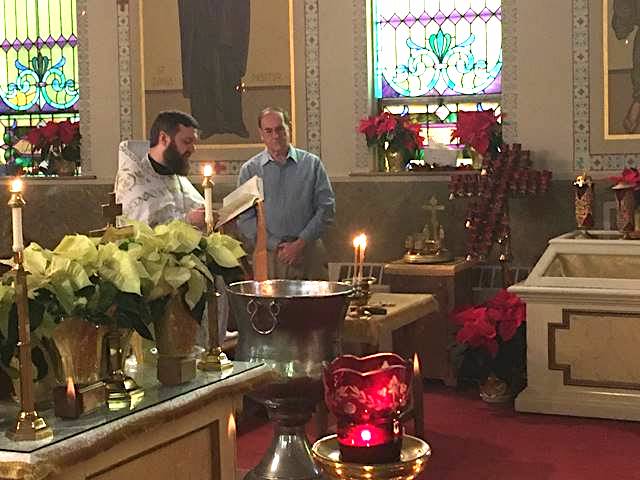 Calendars and envelopes available
2020 Calendars and church envelopes are now available in the Vestibule!