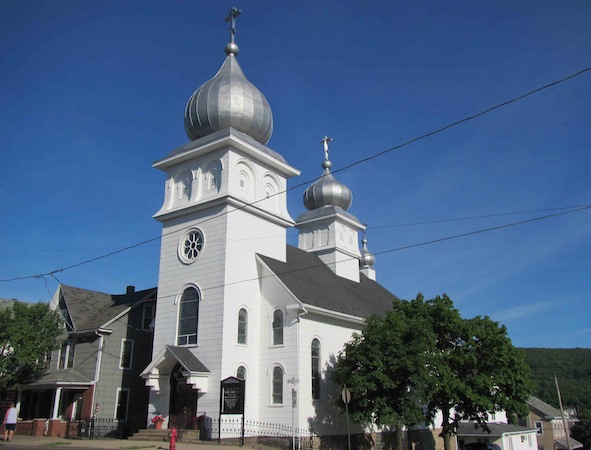 Welcome to St. Michael's Orthodox Church!
Founded: 1907
Diocese: Diocese of Philadelphia and Eastern Pennsylvania
Deanery: Frackville Deanery
Parish Highlights:
We have a choir, and services are in English with some Slavonic on Feast Days.
We promote Orthodoxy and offer educational programs for youth and adults at least six times a year. Photos from past activities can be found at http://doepa.org
We have coffee hour following Divine Liturgy most Sundays. Please join us in fellowship!
We support charitable and community efforts, including the local food bank.
St. Michael's has 50 parishioners, and we are focusing on regrowth.
Blessing of homes
If you would like to have your home blessed after January 6th, please schedule time with Father Ignatius.
2018 Envelopes
Church donation envelope boxes for 2018 are now available for pickup in the vestibule.
2017 Nativity Appeal for Seminarians
There are three seminarians from the Diocese at St. Tikhons. These individuals have families and limited incomes. If you would like to send in a donation we have envelopes with the Diocese address in the Vestibule. See the posting on the hall bulletin board for additional information.
Christmas flower pledges
As we approach the Nativity, we think about those we care for, both living and departed. The Christmas Flower Pledge is an opportunity to honor those dear to you.
Like in prior years, you can pledge a poinsettia at $25 in memory of or for the health of a loved one. If you would like to participate, submit this form by December 10, 2017 with your donation. The pledges will be published December 24th, and ornaments noting the pledges will be placed on the Christmas tree in the church.
Veteran's breakfast
On Sunday, November 5th, following Divine Liturgy, we will have a breakfast to honor the Veterans of the parish. You can learn more about the event in the flyer, which is here.
Remember to turn your clocks back 1 hr for the return of Standard Time!
Blessing the new Epistle
On Sunday, October 15, 2017, at the end of Divine Liturgy, Father Ignatius Hunter blessed the church's' new Epistle.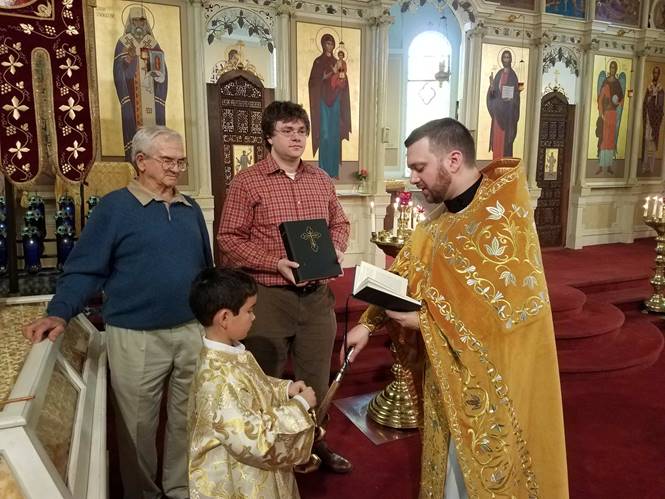 The Feast of Dormition
On August 15, Father Ignatius Hunter blessed flowers and herbs as part of the Divine Liturgy for Dormition.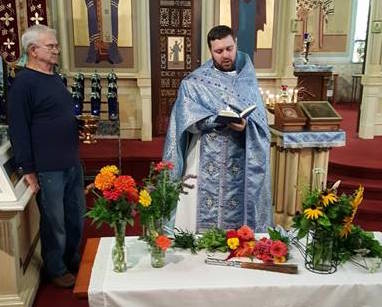 The Feast of Transfiguration
On August 6th, Father Ignatius Hunter celebrated the Divine Liturgy for Transfiguration and blessed fruit following the service.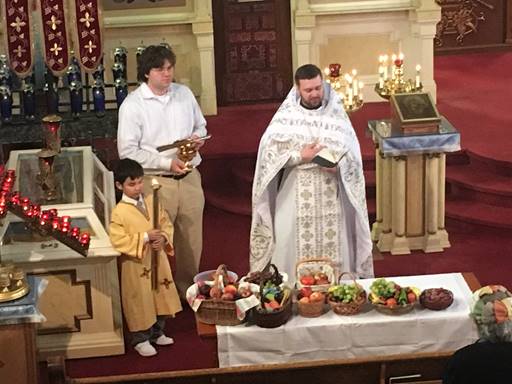 Welcome Father Ignatius and Matushka Seraphima!
In July, Father Ignatius Hunter took on the role of Acting Rector of St. Michael's Orthodox Church. He and his wife, Matushka Seraphima, have moved into the rectory, and Fr. Ignatius celebrated his first Divine Liturgy with us on July 9th.
We welcome them into our parish with open arms and look forward to many years together!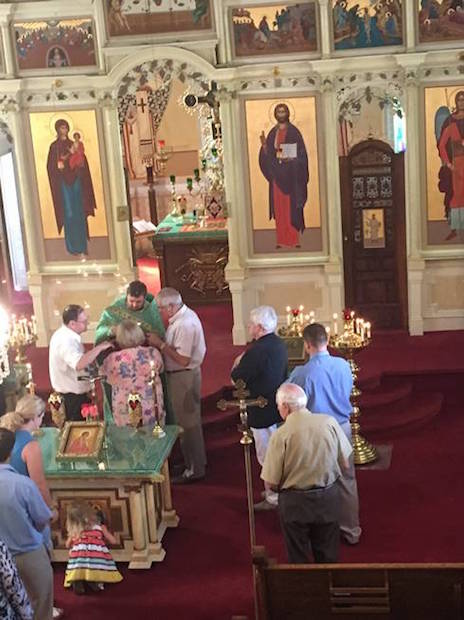 Summer basket raffle
On July 16, 2017, we will have our summer basket raffle. To enter, fill out a raffle form, and return it by July 5th.
Forms should be mailed to:
St. Michael's Basket Raffle
131 North Willow Street
Mt. Carmel, PA 17851
Meet our 2017 Parish Council:
On March 26, 2017, our new Parish Council took the Oath of Office. The officers were elected at the annual parish meeting held on January 22nd.