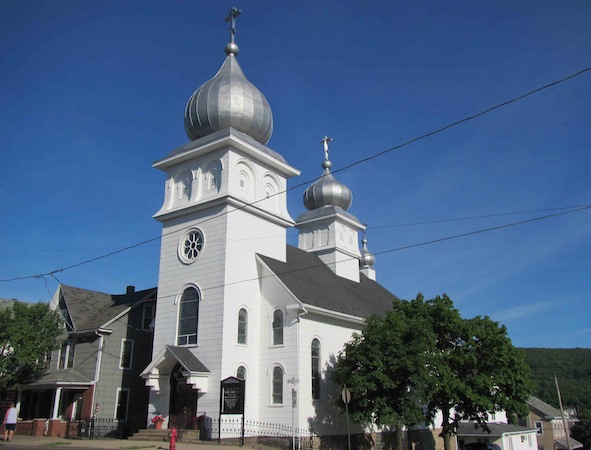 Welcome to St. Michael's Orthodox Church!
Founded: 1907
Diocese: Diocese of Philadelphia and Eastern Pennsylvania
Deanery: Frackville Deanery
Parish Highlights:
We have a choir, and services are in English with some Slavonic on Feast Days.
We promote Orthodoxy and offer educational programs for youth and adults at least six times a year. Photos from past activities can be found at http://doepa.org
We have coffee hour following Divine Liturgy most Sundays. Please join us in fellowship!
We support charitable and community efforts, including the local food bank.
St. Michael's has 50 parishioners, and we are focusing on regrowth.
Diocese Instagram page
The Diocese is now on Instagram! You can follow them @oca_doepa or OCA Diocese of Eastern PA.
Annual Basket Raffle
We are requesting assistance covering the cost of our annual basket raffle prizes. Any cash donations would be greatly appreciated!
The items needed to be covered include:
$150 Walmart gift card
$125 gift certificate for Irish Isle Provision Co.
$100 gift certificate for Kowalonek's Kielbasy Shop
$100 Boyers gift card
$150 cash prize
$100 Mattucci gift card
Palm Sunday
On March 21st, Father Ignatius Hunter celebrated Palm Sunday.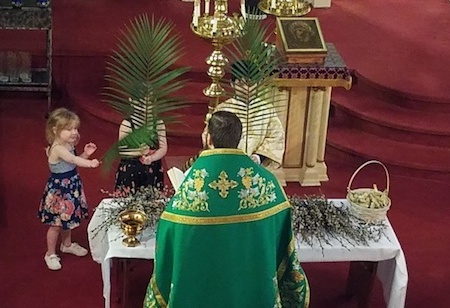 Meet our 2019 Parish Council:
On March 17, 2019, our new Parish Council took the Oath of Office. The officers were elected at the annual parish meeting held on February 3rd. More pictures of the ceremony are available here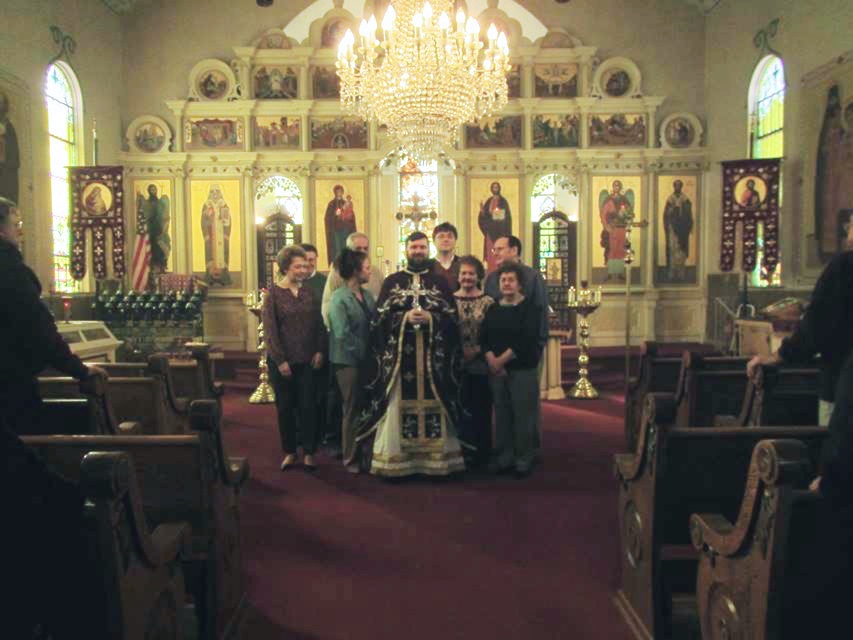 Forgiveness Sunday Vespers
On March 10th, Father Ignatius Hunter celebrated Forgiveness Vespers, which is also known as Cheesefare Sunday and is the last Sunday before the start of Great Lent.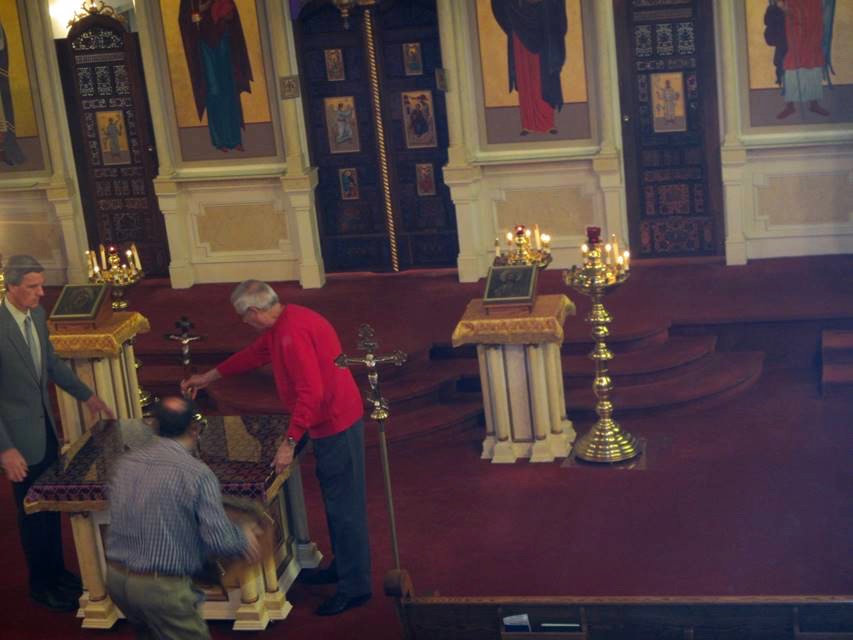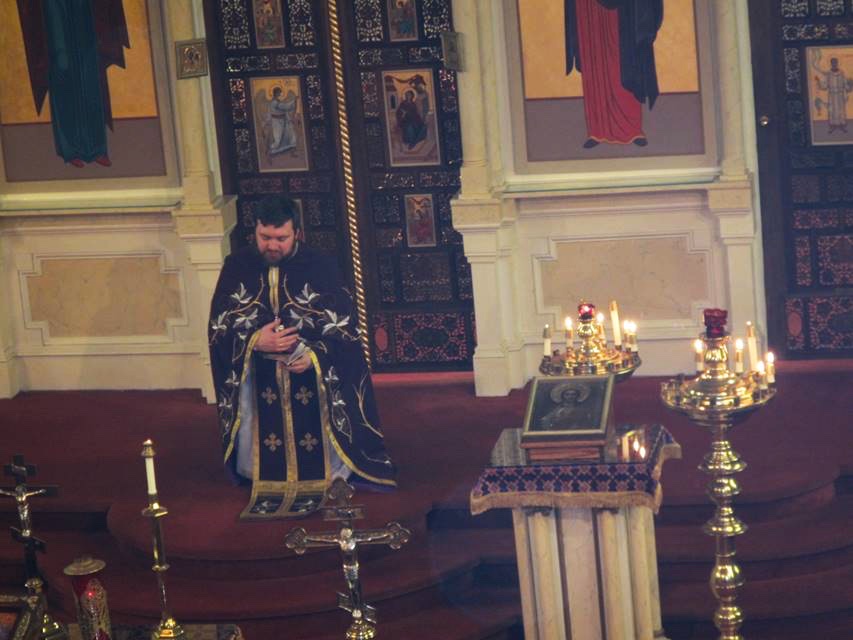 Lenten Appeal
As we begin our Lenten journey, we are reminded that this journey should not be limited to fasting. Each parishioner should consider putting aside each day the money saved from fasting or from giving up something of enjoyment and use either the small boxes which will be provided or the gold collection plate on the center Icon table to donate savings in support of our Annual Lenten Appeal.
Theophany
On January 6th, Father Ignatius Hunter celebrated Theophany, which commemorates Christ's baptism by John the Forerunner in the River Jordan. The feast of Theophany is also sometimes referred to as Epiphany or Blessing of the Waters.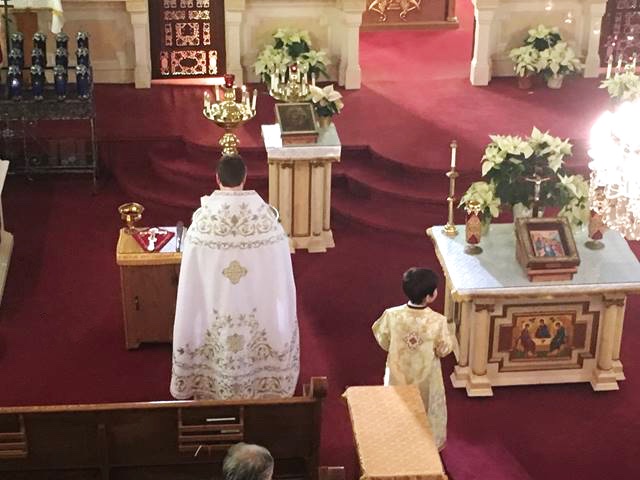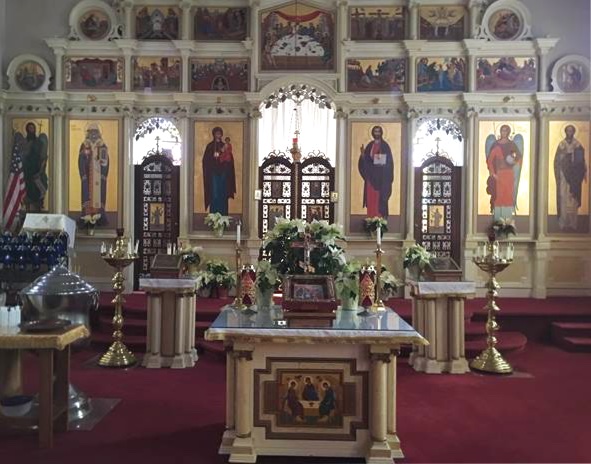 Blessing of homes
If you would like to have your home blessed after January 6th, please schedule time with Father Ignatius. There is also a calendar in the vestibule to sign up for a time.
Christmas flower pledges
As we approach the Nativity, we think about those we care for, both living and departed. The Christmas Flower Pledge is an opportunity to honor those dear to you.
As in prior years, you can pledge a poinsettia at $25 in memory of or for the health of a loved one. If you would like to participate, submit this form by by December 9th with your donation. The pledges will be published December 23rd, and ornaments noting the pledges will be placed on the Christmas tree in the church.
110th Anniversary of St. Michael's Orthodox Church
On September 16th, 2018, His Eminence Archbishop Mark, Father Michael Evans, Father Daniel Ressetar, and Father Daniel Kovalak celebrated Divine Liturgy with Father Ignatius Hunter to mark the 110th Anniversary of our church.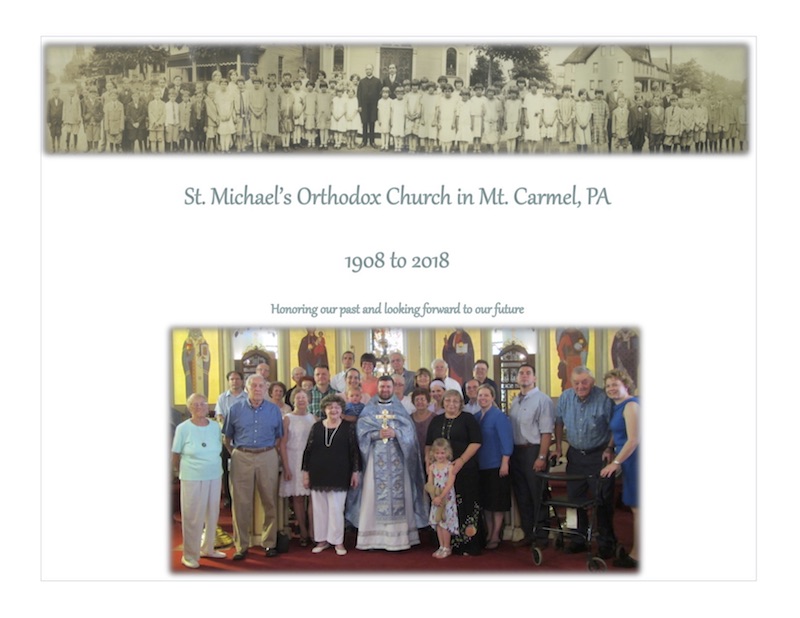 The day began with a beautiful Liturgy. As part of the service, Archbishop Mark awarded Father Ignatius the Nabedrenik, which recognizes faithfulness to the priestly ministry. We then went to the church hall and enjoyed fellowship and an excellent meal provided by Scicchitano Catering. Father Ignatius, Sandy Tosca, and Archbishop Mark all made comments following the meal, with Father Ignatius recognizing those who helped with the hall project. The parish also paid tribute to the four charities we support on a regular basis (Mt. Carmel Food Pantry, Manna for the Many, Greater Susquehanna Valley United Way, and God's Chuck Wagon) and presented a $200 check to each. Jake and Judy Betz, representing the Mt. Carmel Food Pantry, joined us and spoke about what they do in the community.
We topped off the day with Pepe's Ice Cream truck, which all enjoyed. We want to thank the parishioners who covered the cost for the treats!
As part of the celebration, the church put together commemorative anniversary books that include photos from 1908 to the present along with the history of the decades of the faithful and provided them to parishioners and visitors who attended. The cover of the book appears above. You can view a larger version of the cover along with photos from the event here.
Dome repainting
In preparation for celebrating St. Michael's Orthodox Church's 110th Anniversary, in Mt. Carmel, we repainted the silver cupulas that overlook the community. The domes have been painted numerous times since 1952, when major modifications were made to alter the tops of the domes and place stainless steel crosses. The most recent repainting work was done by Rick Laske
More photos are available here.